Christmas Day is just a few weeks away now and with some of our Christmas gifts already bought we are starting to turn our minds to Christmas dinner. But Christmas Day needn't be a beauty free zone. The real beauty lovers out there may be glad to know this Christmas you can replace your usual boring, key ring containing Christmas crackers with some amazing beauty product containing crackers. Read on to get the low down on which beauty crackers you could have on your Christmas table this year.
RELATED ARTICLES
Beauty Advent Calendars. What Are They And Why Would I Want One?

What Are Beauty Crackers?
Beauty crackers are simply crackers that contain a beauty product instead of your usual paper hat, joke and plastic comb/compass/sharpener. These crackers and their contents will put a smile on the face of every beauty lover. Why not get some standard crackers for the kids and save the beauty crackers for you and your fellow beauty addicts.
Here is a selection of the BEST beauty crackers available this year.

Nails Inc Festive Cracker Collection – £38 for a box of 6
If you are a fan of dressing up your digits, then these Nails Inc crackers may be the perfect thing for your Christmas table. Get 6 crackers, each containing a new and bestselling full size nail polish. Stylishly designed, these crackers would make the perfect alternative dinner table adornment or would even be perfect as a gift for your beauty savvy friends. Each set of crackers contains: a NailKale Superfood base coat, Regents Park NailKale, Hamptead Grove NailKale, Whitechapel Snowflake effect, Winter Mews Crushed Diamonds and Swan Street polish.
Available – from Nails Inc website
Latest In Beauty Cracker Gift Set
– £17.95 for box of 3
This set of 3 beauty crackers contain beauty products from some of the best brands around. One contains a Make Up Surprise one contains a Skincare Surprise and one contains a mystery Beauty Surprise.
Available – from Latest In Beauty website
Clarins Christmas Crackers
– £49 for a box of 6
This year Clarins has launched their Christmas Cracker Set which will be available exclusively at Selfridges. Each cracker contains a Clarins miniature including: Wonder Perfect Mascara, Gentle Refiner, Beauty Flash Balm, Hand & Nail Treatment Cream, Eau des Jardins and Rouge Eclat Lipstick.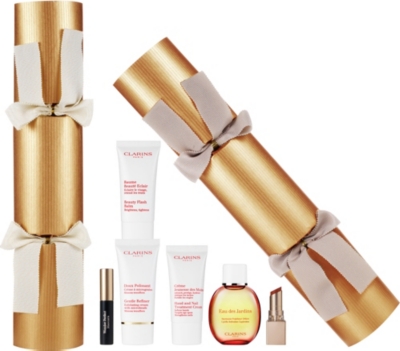 Available – from Selfridges
St Tropez The Instant Cracker
– £5 each
These individual St Tropez Christmas crackers each contain a 50ml Instant Tan Face & Body Lotion. Rather than saving these for the Christmas table, why not use these as a perfect stocking filler or Secret Santa gift. This product is great for a natural looking tan that lasts for 24 hours. It contains water and transfer resistant technology which washes off with soap and water.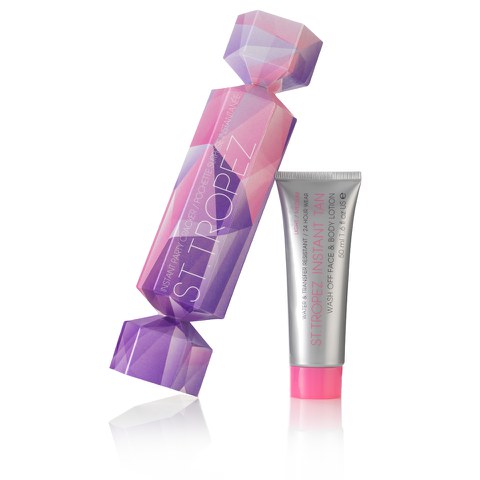 Available – from BOOTS and Look Fantastic
Sanctuary Surprises
– £10 for 4
Discover a wonderful selection of Sanctuary surprises with these pretty festive crackers which each contain a mini Sanctuary treat. This pack of 4 crackers contains: Cleansing Burst Body Wash 75ml ,Silky Smooth Body Lotion 75ml Green Lemon & Orange Blossom Body Wash 75ml and White Lily & Damask Rose Body Wash 75ml.
Available – from Sanctuary website and BOOTS
Soap & Glory Kissmas Cracker
– £6 each
Each of these miniature individual Soap& Glory Christmas crackers contains a Soap & Glory lip plumping gloss, the Super-Colour sexy Mother Pucker.
Available – from BOOTS
Will you be buying beauty crackers this year? Which crackers are you going to buy? Let us know what you think of your beauty crackers?